One of the challenges of this lockdown has been a total breakdown of system & discipline in life. Not that I was a great taskmaster or achiever earlier but some of my habits I actually enjoyed, like writing regularly. So though it has been a while I have traveled outside of the city ( or outside of our home actually), let me go back to one of the memorable trips I had last year to Patnitop, near Katra and Mata Vaishno Devi Shrine.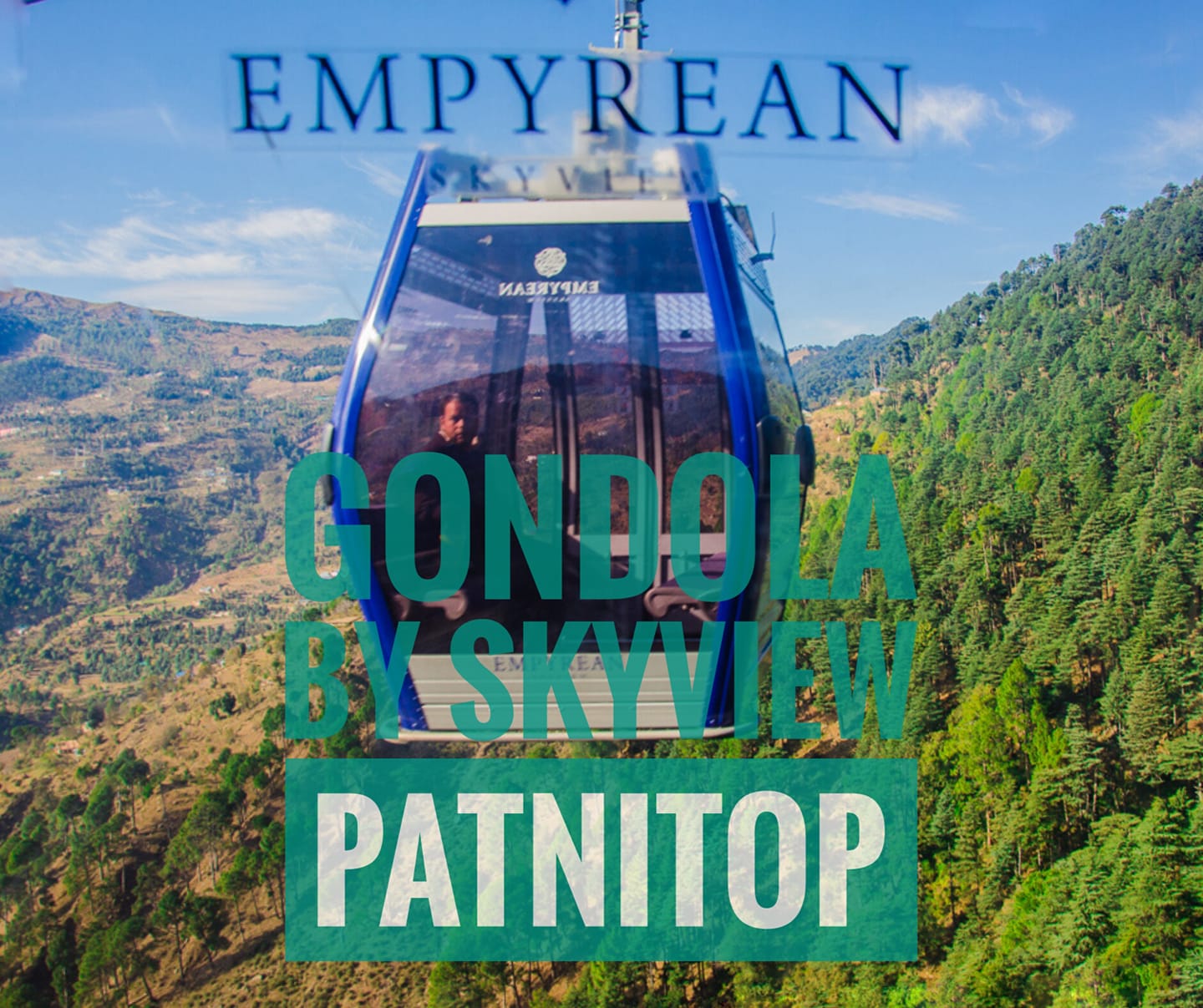 Now Patnitop's claim to fame is that it is a favorite next stop of newly married couples after they have visited Mata Vaishno Devi Shrine post marriage. I also thought that Patnitop is a honeymoon destination, with not much to do, but on my visit to Patnitop, I realized there is a lot more to do and see in Patnitop that it is a complete family destination, more so because with the addition of the latest attraction the Gondola Ride ( cable car ) that takes you from the base to the center of Patnitop town offering majestic views of snowcapped mountains above, soothing greed Deodaars below that are punctuated by colorful houses of villages below, but more about the Gandola.
In case you are wondering why I am going gaga over a cable car ride let me explain a few things to you. India, as a country has great potential for tourism, is a well-known fact, but even with every possible attraction in a country from the mighty Himalayas to the boundless Indian Ocean to temples of Hampi to Ghats of Varanasi and beaches of Goa we still get much less inbound tourists than Singapore or Thailand. A lot of our hill stations like Simla, Ooty, Mussoorie, Nainital, etc. are totally overcrowded and yet everybody wants to go there. While it is fashionable to say I want to travel to offbeat destinations nobody actually visits them as they lack infrastructure, or the place does not offer a wholesome family package. That is where the latest Gondola or Cable Car in Patnitop may prove to be a gamechanger for the area. A single project like Skyview Patnitop brings in hundreds of crores of investment into the local economy and has already created direct as well as indirect jobs for 100s of locals. These jobs range from construction to mechanical engineers, chefs, tour guides, etc.
Like I said earlier though popular, Patnitop was always seen only as a honeymoon destination, now with Indians traveling abroad and getting exposed to various adventure sports and activities, people want more than just site seeing. So Empyrean Skyview came up with this adventure park at the base station of the Cable car in Sanget. Some of the activities you can participate in the Skyview adventure park include one of the longest Zipline in India.
For those who love daring sports there's Asia's longest zig-zag zipline measuring 580 meters; an all-season tubing sledge of 238 meters or ride India's first magic carpet measuring 162 meters. All activities adhere to and are operated under international safety standards.
At the Skyview Patnitop adventure park, adventure, and outdoor enthusiasts will also be able to experience Speed Hiking and Mountain Biking. Speed hiking, an internationally popular summer activity, is being introduced at Skyview Patnitop for the very first time in India. A dedicated trail of guided hikes approximately 4 km at an elevation gain of approximately 1000 feet has been created between the two terminals. The trail traverses through villages, farmlands, and dense deodar forests. Professional guides will familiarise enthusiasts and newbies with the nuances of speed hiking along with the right gear. In addition to speed hiking, adventure enthusiasts will also be able to try out exciting biking trails for that adrenaline rush as they experience mountain biking. The biking trails are being specially designed for mountain bikers of all skill levels to enjoy expert-only to family-friendly biking.
As you see with the addition of these adventure activities, suddenly Patnitop becomes attractive to those teenagers who find it hard to peel off their eyes from there phones. Not just adventure activities the Skyview Patnitop has a vegetarian food court, street food kiosk, Chinese Food, and some yummy confectionaries on offer. But the best part of the experience, in my opinion, is the Gondola Ride or the Cable car from the base station to the Patnitop. The road trip that takes 45 minutes and sometimes more due to traffic has been cut short to only around 10 minutes that too sitting in a comfortable Gondola perched high above on equipment that has been imported, installed, and certified by the Poma group of France. In order to ensure the highest level of foolproof safety and comfort ESPPL worked through a strategic fusion of entrepreneurship, global partnerships, and modern technology with the best in the business to offer a world-class mountain adventure destination at the foothills of the Shivalik mountain range in Patnitop, UT, J&K. In order to achieve this, ESPPL partnered with prominent global leaders and experts including POMA Group, MND Group, ERIC, and Sage Geotech in the planning, development, and construction of Skyview Patnitop. The layout and master planning of the 11-acre tourism site is the work of Dianeige (France), the master-planner of the Sochi Olympics, Russia.
Skyview Patnitop is the largest Indo-French collaboration in mountain infrastructure development and was built in a record time of 2 years and 4 months, as against the industry norm of 8 years, a feat that is common to a majority of initiatives taken up by companies of the FIL Group of which ESPPL is a subsidiary.
But that is the technical part let us now go on a journey in the Gondolas and enjoy the picturesque view from high above. The journey to the Gondola starts at the base station in Sanget where the Lower Terminal stands at 1343.17 meters and takes you to the Upper Terminal which is at an altitude of 1998 meters above the sea level. This Cable Car ride is in every essence what they call " The Journey is the destination", you are perched high above the ground in a Cabin with glass walls on all 4 sides. As the Gondola rises in the sky your heart starts pumping faster, I could see a drop of sweat on one of my fellow travelers but soon as you rise above the villages below the deodars start becoming smaller, but never small enough to lose there identity. Soon you understand the meaning of 65 Meters ground clearance and the longest span of 849 meters between two of the towers. But time is of the essence and every side of the Gondola offers a different view, behind you is the Sun in the background on your right is the villages with colorful rooftops and you can actually see people working on the roofs. Then as you rise you start noticing the white peaks in distance and the colorful houses and hotels in the Patnitop town. The wait was that a stray cloud that just passed right next to your Gondola? And what is that below moving below you on the Deodars? Is that the shadow of Gondola and yes that for sure is a wild brook that will see a full flow if you come in monsoons. At Patnitop terminal you are greeted by a helpful team of Skyview Patnitop who are patient with your questions yet meticulous enough to ensure you are not obstructing the work or safety norms.
Once in Patnitop, you realize how small the town is everything is within walking distance as the upper terminal of the Skyview Patnitop Gondola takes you to the very heart of Patnitop saving you time as well as hassles of honking traffic and pollution on the highway. The air is much cooler, and fresher in Patnitop, and you are greeted by might Deodars on every slope.
What to do in Patnitop Once in Patnitop there are many local attractions that you can visit. Within walking distance of the Skyview, Gondola terminal is the ancient Naag Temple where Naaga or Serpent is worshipped by locals as well as visitors. The temple is revered by locals and clicking images inside the sanctum sanctorum is not allowed. Some of the other attractions nearby within driving distance or a short trek include Natha Top and Madha Top both are nearby drivable picnic spots that offer a picturesque view of snow-clad mountains in the North and green valleys below. Depending on the season you may encounter small waterfalls on the way that are a perfect spot to stop and click images. Every now and then you will meet local Shepherd or Cowherds with there wealth walking on the road on 4 legs. Yes, these shepherds or Cowherds are not interested in hoarding gold or cash all there wealth is in form of sheep, goats, cows which they travel with to lower lands during winters and come back to higher reaches during the summers. But I will hold writing about my encounters with them for some other blog post. Y
I am sure once travel resumes Skyview Patnitop will become a major tourist attraction in the Jammu / Vaishno Devi / Patnitop Circuit as it not only offers a complete family destination by adventure activities but also has great options for trying local as well as other cuisine and by taking the Gondola ride to Patnitop you not only save time but you also get some picturesque view during the journey while enjoying the thrill of being in a cable car high above the trees and valley below
Check below some of the images I shared earlier on Instagram about my visit to Skyview Patnitop and Gondola ride
How to reach Skyview Patnitop
Closest airport: Jammu, 95km away, is less than a 1.5-hour flight from Delhi and is also connected to cities like Chandigarh, Amritsar, Mumbai, etc.
Closest railway station: Udhampur, 28km away
Cost of activities at Skyview Patnitop
Round trip on the ropeway: Rs.999 plus taxes
A one-way trip on the ropeway: Rs.849 plus taxes
Zipline: Rs. 749 plus taxes

UPDATE: As of now (December 2020 ) the Skyview Patnitop is open and you can not only enjoy adventure activities but can also stay using their special stay packages for Christmas and new year. For more information visit: Skyview Patnitop website
If you have liked reading the post do subscribe by email and like it or share it with your friends on Facebook, LinkedIn, Twitter, etc.
I promise that I will not sell, rent, or donate your email to anybody
🙂 🙂 🙂