Winter Photographs Of Ladakh In Winters That Will Leave You Mesmerised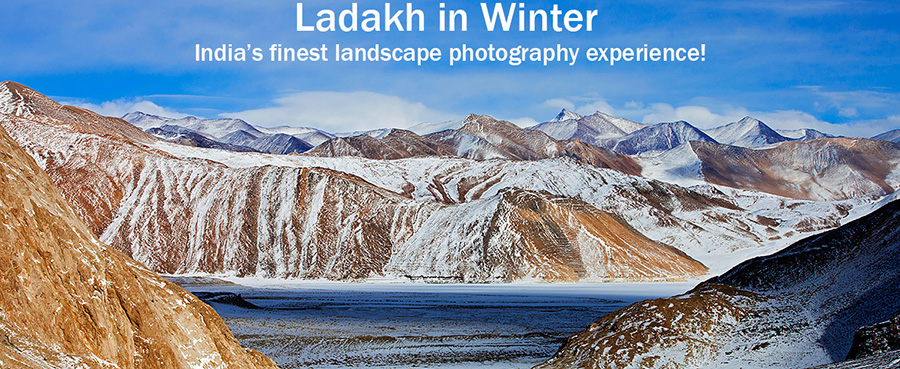 Ladakh is the dream destination of every traveler from pristine lakes to rugged mountains to fast flowing rivers to blue skies it has everything that you have imagined in Shangri La. I have had my little share of visiting Ladakh a few years ago and I have been longing to go back to Ladakh ever since. But I have not been that lucky and never got a chance to visit Ladakh again. Recently Iw as talking to Arun Bhat, who has been going to Ladakh before it became the destination to travel and he has been to Ladakh in every season and every year for more than a decade. That is more visits to Ladakh than most of us will make in a lifetime.
So I asked him what is his most favorite time to visit Ladakh. His answer actually astonished me as he said, he prefers to go to Ladakh in winters. I was a bit skeptical as I was wondering, "How can somebody go to Ladakh in winters, would it not bee freezing cold?" I asked him. Well, to answer my question Arun shared some of his images that he has clicked in Ladakh in Winters that will leave you totally mesmerized as Ladakh in winters is totally different from Ladakh you may have visited or even seen in images.
So here are the 5 Reasons that will make you fall in love with Ladakh in winters as l learned from the images I saw
The Landscape is totally frozen: Ladakh is cold even in summers, and come winters temperatures can fall below minus 25-degree Celcius on some days. This means you get to photograph things that you have not even imagined ever like Frozen waterfalls. Yes, it gets so cold that running water freezes not only in rivers and lakes but even fast flowing waterfalls freeze. Now no amount of photo tricks or photoshop can give you a frozen waterfall to get those images you need to travel to Ladakh only in winters.
Ice- Ice & more Ice : With the lakes and rivers frozen you are able to walk on a frozen Pangong and Tso Moriri lakes as the ice is several feet thick, but the best part is as the ice is very clean you can see the air bubbles trapped in those thick sheets of ice and it makes for some very creative photographs when air bubbles, Ice and sun rays meet.
Meet The Changpa Nomads: Changtang is a high altitude plateau between India and China, this area is inhabited by shepherds who still have a nomadic lifestyle and travel with there sheep and goats etc. in search of the little grass that is the source of sustenance for the animals during winter.
Solitude in the Mountains: It is highly likely that you will be alone for miles and you may not see another human being for days except for those in your group. Ladakh in winters in not for the faint-hearted. If avoiding hordes of selfie seeking tourists is your key criteria for visiting a place then Ladakh in Winters is for you. And thanks to the extreme snow I hope it will remain like that. So enjoy your moment in the mountains as you reflect on your life looking at your reflection in the semi-frozen waters of the mountain streams.
Geysers: With the landscape totally frozen, nature still found a way to show miracles in form of Geysers. These geysers have hot water coming out of them, some of which freezes as it comes in contact with the cold surroundings, especially in the night. This phenomenon is to be seen to be belived and one can only wonder at how and from where the hot water is coming from.
Let me add here that Ladakh in winter is for those who really love nature and are willing to travel in extreme cold if you love photography more than anything else then Ladkah in winters is for yours. Arun is leading a photography tour > Ladkah in Winters Photography Tour with Darter Photography, check it out and you will fall in love with Ladakh in a totally new way.
Check out his video from Ladakh in winters to see some of the magic of Ladakh in winters
If you have liked reading the post do subscribe by email and like it or share it with your friends on Facebook, LinkedIn, Twitter & Google+.
I promise that I will not sell, rent, or donate your email to anybody
🙂 🙂 🙂
---
Note: All images in this post are clicked/copyright by Arun Bhat and should not be used/copied without his permission.
---