Mayo College Ajmer Students Campaign for a Swachh Bharat
Travel always shows you something new, and I just don't mean places. For a change  Gandhi Jayanti was celebrated with a difference, instead of just the customary remembrance, speeches and cleaning the pigeon poop smeared Gandhi Statue across country, the nation decided to get out and clean the streets. With PM Narendra Modi, calling for a Swachh Bharat Abhiyaan
 (Clean India – BTW Bharat is the Official name of India in Hindi, and our constitution mentions it as India that is Bharat)
But the good part is that it is not just the guy at the top who has come out to clean the roads, but the message seems to have gone across the nation. Let us remember the filth does not gets generated and transported to our public places on its own. We the people of this country do that while we are great at maintaining neat and clean homes, we treat our public places as open toilets and  the nation is a garbage dump for us.  Our trains are not immune to the same, the moment folks finish their tea or food the tea cups and packets are thrown out of the windows almost immediately, converting our railway tracks one of the largest dumping yards in the country. All the way from Kashmir to Kanyakumari and Guwahati to Gujarat, our train tracks are full of filth, that nobody cares to remove.
So while the nation was busy building swanky airports from Delhi to Hyderabad, our train stations and tracks continue to be full of filth. So among all the noise around Swachh Bharat Abhiyaan ( Clean India Campaign ) I was happy to see some action on ground, or should I say on the tracks. We were traveling the 12016 Ajmer Delhi Shatabdi on 2nd October, when I noticed some boys carrying green placards on the platform of Ajmer Railway Station.
The placards were painted
"  You love India, Help to Clean it "

" Don't litter the tracks"

" I love India, I help Clean"
On the bottom left hand corner of the placard I noticed Mayo College, one of the most haloed educational institute in India. With Mayo alumni that includes the whose who of Royalty ( Both desi and from places like Nepal, Oman etc) , Bankers, Sports men, Bureaucrats, Journalists etc. Basically Mayoites  have made a mark in all walks of life. But the reason I am impressed was that contrary to the image that Mayo remains an institute for Royalty, it seems that Mayo is reaching out to the masses and look at issues that matter to the average desi like me.
The students later also entered our coach and called for attention. Once we looked at them the leader of the group requested all present to not litter the tracks and put the wrappers, cups, polythene etc. in trash bin etc. I could not help but click some pictures with my cell phone. I actually felt very proud that these young students were out on street on a holiday and helping in spread awareness for a clean India.
So three cheers to the Mayo Students on this Gandhi Jayanti and Dussehra, may we get rid of the demon of filth in our country in general and train tracks in particular. These Mayo College students along with PM Modi have shown the way not it is up to us desis if we want a Swachh Bharat or we are happy surrounded by filth created by us.
NOTE: All pics taken by cellphone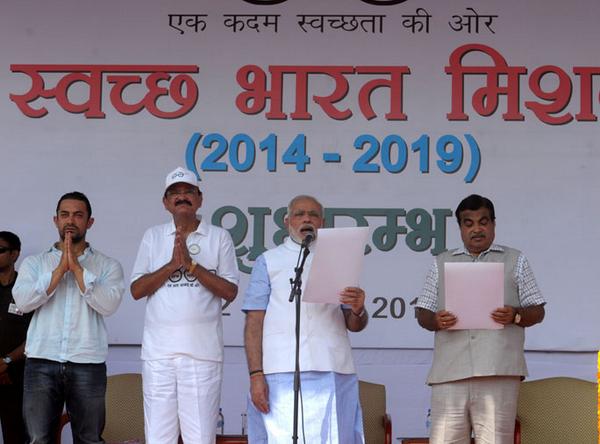 I thank noted actor @aamir_khan for joining the launch of Swachh Bharat Abhiyaan. pic.twitter.com/XSbuq1YKx5

— Narendra Modi (@narendramodi) October 2, 2014

Check  Mayo Alumni to know about the distinguished students of Mayo College Ajmer, Rajasthan

If you have liked reading the post please feel free to subscribe by email and like it or share it with your friends on Facebook, LinkedIn, twitter and Google+ .

I promise that I will not sell, rent, or donate your email to anybody

🙂 🙂 🙂