Guide to shopping in Kerala: Spices to Souvenirs and many other things to buy in Kerala
Kerala is known as God's Own Country, but it is also Shopping destination no 1  for thousands of years for people looking to buy spices, today the list has only expanded to spoil you for choice of  things and souvenirs  to buy in Kerala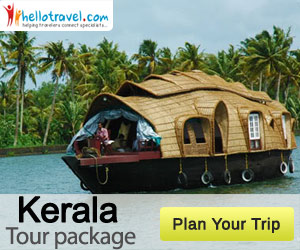 We, humans, evolved from hunters and gatherers to our present form, though I sincerely wonder if the current state of humans can be termed             evolution. But let us leave that to anthropologist, zoologists and behavior psychologists to debate. (OK, this post's quota for big words is over, back to the     desi self).  The hunting part is down to bargain hunting online and offline, and the gathering has evolved to a more refined skill called shopping.
    So where ever we go we want to bring a piece of the visited place to our little kingdom of dreams aka living room. So how could I resist not to shop       in Kerala, where the world has come to shop for thousands of years.  The fragrant spices of Kerala were responsible for the launch of a thousand ships    from the Mediterranean coast, with the sailors like Vasco de Gama following the scent to the Malabar Coast of India. Indeed, it would not be an exaggeration    to say that the new world aka Americas and Australia were discovered by western colonial powers because they  wanted to find where the spices grew as    the route from middle east was controlled by Arabs, who were not willing to give away their monopoly on the lucrative business.
    So Kerala has been the shopping mall of the world for thousands of years and it continues to entice the visitors with the various charms in its                   bazaars from fort Cochin to tea plantations in Munnar and spice gardens in Thekkady and Wayanad.
Anyways long story short here is a list of things you must buy in Kerala, and continue the tradition of Shopping in Kerala
For your convenience, I have divided the list in Food, decorative Handicrafts, Utility Items etc.
Spices: Not very groundbreaking but can you really leave Kerala without buying the best spices in the world? Take your fill of black pepper, cardamom, cinnamon, cloves, turmeric etc,and  buy as much as you want, fill your bags, even if you have to throw some of your clothes away. For you will not get better spices anywhere else in the world at such economical prices. As spices don't go bad if kept in a dry airtight jar, you can buy without fear of getting them spoilt.   Traveler Tip to buy spices in Kerala: Best place  Kumily  near  Thekkady, second best place Fort Cochin for the touristy types.
Cashews:

OK so the Portuguese came to buy spices to Kerala, but simultaneously they also were bringing stuff from South America to India, and Cashew (

Anacardium occidentale) is one such plant that came with them from Brazil.  While in Goa, the Cashew Feni made from Cashew apple is a popular drink, in Kerala it is still not that commercialized and all the focus is on the nuts.  Traveler Tip to buy Cashews: Unless you are a slave to vanity, you can buy the split nuts that break during processing, less. I am pretty sure you  will  not  swallow  the whole nut  and bite it. Right? So if you are getting a broken nut at lesser prices why would you not consider that as an option? Oh yes because you like to hold the cashew nut in your hand,  examine its perfect beauty,the cashew curves that remind you of comma and semi-colon hmm. Your choice.
Tea: Ah so you are also one of those  who will not touch a cup of tea unless it is grown in Darjeeling? Well, darlings (do I sound like a Page 3 socialite? Good, I wanted to 😉 ) Darjeeling and Assam sure are the more well-known and wonderful tea, but all that tea that you find on our  tea stalls selling hot tea in India originate in the Western Ghats. This Nilgiri tea is gulped by the masses, as it is strong, full-bodied, and gives a chocolate color to the milk that we desis love to dunk our glucose biscuits into.  So leave your tea snobbery for some time and buy some authentic Nilgiri Tea grown in the hills of Munnar, Thekkady, and Wayanad. 
Coffee:  OK so you are not a tea drinker? Fikar not, God's Own Country also grows some of the finest coffee in the world and your Kerala trip is not complete unless you have tried the special Kerala Kapi, in the little steel tumbler. Traveler Tip for buying Coffee: My suggestion is to go for some unbranded local coffee because that is what the locals drink, and try to buy it as close to the source that is the plantation as possible.
Banana Chips: Banana must be the second most popular plant in Kerala and you will see more types of bananas in Kerala than anywhere else in the world.  Banana chips are the mother of all chips in the world, and all other chips are copy cats and one day they may have to pay a royalty on the original idea if the inventor of Banana chips files a patent.

  But don't worry she is long gone and we have no idea who her descendants are or if they are reading this post. You will find all kinds of Banana chips in Kerala, sweet, salted, spicy, crunchy, munchies etc.  They are locally called nenthra-kaaya oopperi or upperi and you get chips made from raw bananas as well as from ripe bananas.Banana chips are a wonderful snack to take on a hike or to serve to your guests with drinks.  Just remember to pack them in a firm container because you don't want to buy Banana chips and eat banana powder when you reach home.   OK enough of food products, I will not mind if you raid your kitchen for some snacks as long as they are made of banana. You see only a few Banana chips in the picture above because I ate most of them before I clicked this picture.

Handicrafts: Highly skilled Kerala artisans make showpiece and utility items from metals, coconut, wood, etc.  A lot of these are not found anywhere else and truly represent the cultural richness and diversity of Kerala.
Coconut or Coir Products: Can you actually come out of Kerala without buying a coir product? I mean the state is named after Coconut, ( Keralam) Kera= Coconut and Alam: Home so Kerala is home to Coconut palms. No matter where you go you are within touching distance of a Coconut tree. Everything you will eat will have coconut in one form or other. The roof of rural houses are made from Coconut leaves, but the roofs are too bulky to carry so you better stick to handicrafts made from Coconut like show pieces for your living room and carpets made from coir the fiber made from coconut husk.  Check these super cool souvenirs made from coconut husk.

 

The Kasavu Mundu, Sarees, and dress: 

Are the pure handmade cotton clothes with golden borders traditionally worn my Malayalee men and women. Now since gold is very expensive other shiny threads in golden, green color are used.  The Men will wear the mundu in all traditional functions and festivals. The women wear the saree in day-to-day life, but the traditional clothes are now more popular during temple visits, weddings, and festivals.  If you are not comfortable wearing the saree you can always buy Skirt and top made from the same material. These skirts and tops stitched like a traditional Ghagra Choli are very popular among girls as they are easier to carry around. Check this dress that I bought for my daughter from Fort Cochin. Price starts from around 350 Rs and can go up to few thousand rupees depending on the material, craftsmanship, which car you drive and what is your bargaining skill.   

Kathakali Mask: Kerala is home to Kathakali and you will get Kathakali souvenirs, everywhere, from fridge magnets to Kathakali Masks, to hanging showpiece etc. Take your picks but don't leave without buying some Kathakali themed souvenirs from Kerala. I bought some hanging show pieces, as well as fridge magnets for our home.
Sea Shell Showpieces: Right from Cowrie shells, that were once used as Cash (incidentally Cash is a word with its origin in ancient Malayalam and or Tamil – Kaash), to Conch,to  oyster  shells  you  are spoiled for choice to buy sea shell themed show pieces and souvenirs to buy in Kerala.
Wooden Idols: You can buy wooden idols of various gods from Hinduism, Gautama Buddha, and Jesus Christ in the bazaars of Kerala. Just make sure whatever you are buying is brand new or is a replica of an antique. Please note you are not allowed to buy and take our genuine antiques out of India.  Besides gods and goddesses, figurines of Elephants,tigers, and Kathakali dancers are  very popular items  to  purchase.
Nettur Casket: Wooden Chests: Some of the finest wooden chests in the world are made in Kerala and they have multiple uses, from storage to now as a coffee table to a decorative item in your showcase depending on the size. They were used earlier as jewelry boxes.
Chundan Vallam and Uru Models: They are a different kind of boats.The ChundamVallam is the snake boat well know for the races,and Urus   are the most utilitarian boats used for boat cargo and human and are worthy of high seas.  The real ones can cost up to a million USD,but  the  models  should be much less  than the million dollars. ( No detailed comparative  study  has been conducted in price comparisons between the price of Real Boats and model boats, so this information is not based real comparative data or any other kind of  economic model  but only on common sense, which is very uncommon nowadays). Besides spice boats, Houseboat models are also available in market
Nettipattom: Is the decorative ornament for elephants used during temple processions, in true royal style.  You don't need  a  pet  elephant  to  buy  Nettipattom,  the  real  ones  earlier  were made of Gold,today  imitations  are available  to be used as a showpiece for your home or car in sizes varying from few inches to life-size that you can use in your living room.Check thispictureofahotellobbyusingNettipattomsfordecoratingthelobbyalongwithNilavilakku the next item in our list. Can you also notice the wooden chest or Nettur in the picture?
Nilavilakku: Is an oil lamp for ceremonial purposes in temples, homes and at the reception of every hotel we stayed. They come in all sizes from a little one that you can pick in your hands to really big ones that can be used as a weapon to protect yourself in case of an attack by aliens, for the more traditional uses it can be filled with oil and used every evening in your courtyard like all Kerala homes.
Masala Grinder: If you are buying whole spices for authentic taste, then you will need a masala grinder or Mortar and Pestle. They come in various shapes and materials. You can get the masala grinder made of stones like marble, metals like iron  etc. but my personal preference is to buy wood mortar and pestle as they are the least noisy and look good if you want to use them as show pieces in your living room. Another reason why you should prefer wooden masala grinder is that if your Wife jee ever gets  mad at you and uses the grinder as a weapon, the wooden one is likely to cause the least damage. Trust me I am your well-wisher, not that my dear wife has ever used one on me.
Aranmula Kannadi is a metal Mirror from Kerala : This one you will not find easily, at least, the genuine ones are not easy to find. Well, I could not find any so there is no picture of this mirror made by only one family with a secret alloy in this post.  It has a shiny surface to see which is not made of silver polish like in normal mirrors. The composition is known only to the family and they guard it carefully. They are supposed to bring good fortune to the owner.
Kerala T-shirts: Here is another given, just like any other popular tourist destination, Kerala has its own share of T-shirts, the most popular slogan is, you guessed it "God's Own Country" Any doubts that Kerala is God's Own Country were laid to rest after I bought some Kerala T-Shirts from a shop owned by a Kashmiri Shopkeeper in Jew Town of Fort Kochi.

Thiruvananthapuram

Umbrella: You should not take this one lightly and if you are not carrying one this should be the first item you should buy in Kerala as in the hot tropical sun or the incessant rains you will need one. No wonder Alleppey is called the Umbrella capital of India, with Umbrellas available in every shape, size and design.OK maybe not every shape, as last checked they were all circular, and stuck on a stick serving the purpose of protecting you from rain and shine.
Aromatic Oils and Essence:  All those spices  in  Kerala  are  used to make some of the most aromatic oils and perfumes that you can get. The best part about these oils is that they are not just for the cosmetic purpose most  of  them  are  useful  in treatment of some ailment ranging from Asthma, o chronic dermatitis, joint and back pain, migraine etc.

What else do you need you get a beautiful perfume to wear which also works on  helping you get over that headache? Don't forget to wear it when your in-laws are visiting you 🙂

Jewelry:  For thousands of years, the only thing Kerala wanted in return of the spices was Gold and silver, so every year a fresh crop of  spices would be exported in exchange of  Gold, Silver and other precious stones. This Gold that entered Kerala never left except when the colonial powers plundered the wealth. Still, in every home and temple of Kerala, there is enough gold to pay a King's ransom.

Whether you are looking for pure gold ornaments or trinkets sold in street Kerala is the place to loosen your purse strings and shop till you drop for both real gold as well as trinkets on the streets to give as gifts back home. If you are interested in buying gold remember that Gold in India is 22 Karat, unlike the US where 14-18 Karat is the norm for jewelry.  Always insist on a proper receipt and buy from reputed jewelers when buying gold ornaments. For trinkets, you can just roam around the streets and look for something that catches your eyes.
This post is part of my series on Kerala Blog Express that I attended as a part of 27 travel writers from around the world on invitation from Kerala Tourism.  
Other posts in Shopping guide series:
PS: Some of the pics in this post are from my trusted old 5 MP mobile phone, for rest Nikon D7000 was used. 
If you have liked reading the post please feel free to subscribe by email and like it or share it with your friends on Facebook, LinkedIn, twitter and Google+ .
I promise that I will not sell, rent, or donate your email to anybody
🙂 🙂 🙂